I will always remember visiting my best friends house as a young girl. Not only because we had a LOT of fun, but because something there is similar to my own situation now.
Her mother's brother died. And there was a photo of him on the wall. An outdated photo, with faded edges and dust on the frame. I never thought much about that photo. Though I saw it each and every time I visited, I never asked or knew his name or how he died. I didn't think about her Mum and what that really meant.
Now, twenty years later, I have a photo on the wall. It is outdated. Taken with a FILM camera in Bali.
It hangs nicely on my kitchen wall and I look at it each and every day.
But now I know that when Jaxon brings his friends over to stay or play, they will see that photo and behind my back Jaxon will tell them it's his mother's brother. And Terry will be like a no one to them. A picture on the wall.
People don't even ask any more. They just look at it and think nothing of a photo of someone they have never met on our wall. And if they do ask, then I say "that's my brother Terry".  Like maybe he's on holidays. Maybe he just lives overseas. Or maybe we just don't talk anymore.
Like that would ever have happened.
Eleven years ago, I would have broken to pieces having to say he'd died.
I remember the day he died like it was just the other day. When nothing seemed to be real. When driving home from my camping place the thought of putting myself in front of a truck was appealing. And gliding through the rest of the day like my entire body was just on auto pilot.
My best friend came right over. And she sat with me while I cried and cried on my bed. While extended family sat in the kitchen consoling my Dad. I remember how much I loved her that day. For without her, I would have otherwise been alone. She let me rest my heavy head on her knee and cry. And she held my hair back off my face and she wiped my tears away and she cried with me. When the tears had dried out and I could no longer keep my eyes open, I drifted. And she sat with me quietly while I stared off in to nothingness.
I remember the days where I would go to work and have to be driven home within an hour because being alone with my animal's and just my thoughts would rip out my insides. I couldn't stand up, let alone work. I couldn't even talk. I couldn't find the right words that would properly describe having your world yanked out from under you at 120 kilometer's an hour in a 60 zone.
All gone in a matter of minutes.
I will never get my dreams back. I will never get the future I had in my head. The future that had him firmly planted in every plan I ever made for myself. The children. The BBQ's. The parties. The birthdays. He was there in every thing. Intertwined throughout my life, growing with each other. Until we were old and grey, and had to stand by the grave as we buried our parents together.
But instead, I stood by his grave. With my parents by my sides. Watching as his young body was planted firmly in the ground. Forever. His laugh nothing but an echo in my head.
Terry will never meet my husband. The love of my life. He will never know his nephew. He will never know what it feels like to grow old, or to watch as the life you create takes it's first breath. He will never do any of the things I had planned for him in my head.
Tim will never get to meet my brother. One of the most influential people in my life. One of the people that made me exactly who I am. He will never know what Terry was like. What he sounded like. I can't talk about him enough. What I have to say about him doesn't even begin to give you an idea of the life that Terry had. The way he changed the mood of the room just by being there. Only Terry could tell you you were a fucking idiot to your face and not hurt your feelings.
Jaxon will never have a cousin with my maiden name. Because my maiden name died when Terry died.
That hurts. All the time.
No words can express it. You don't know it until it happens to you and you will never understand me. You will never understand the emptiness that is created the day someone so close to you dies. The void that is created. That photo on the wall means everything to me.
It's not just a photo. It's my life. It's my lost dreams. It's my broken heart. Deep down inside me, no matter how strong I seem and how little I seem to need to talk about him and remember him to you, there will always be a large hole. A large broken piece that can never ever be repaired. Or replaced.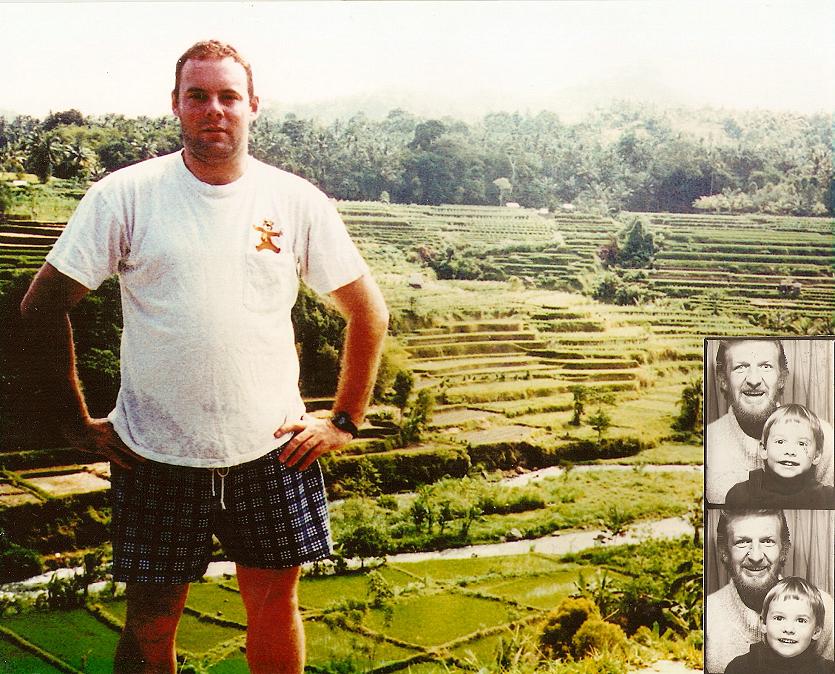 Every day I cry on the inside for the life that I lost when Terry lost his.